Wondering how Tanga's ordering process works? Come join me during my purchase!
Today I will be ordering an adorable Emoji pet bed for my friend's little dachshund, Tabasco.
I select the item I wish to order from the website: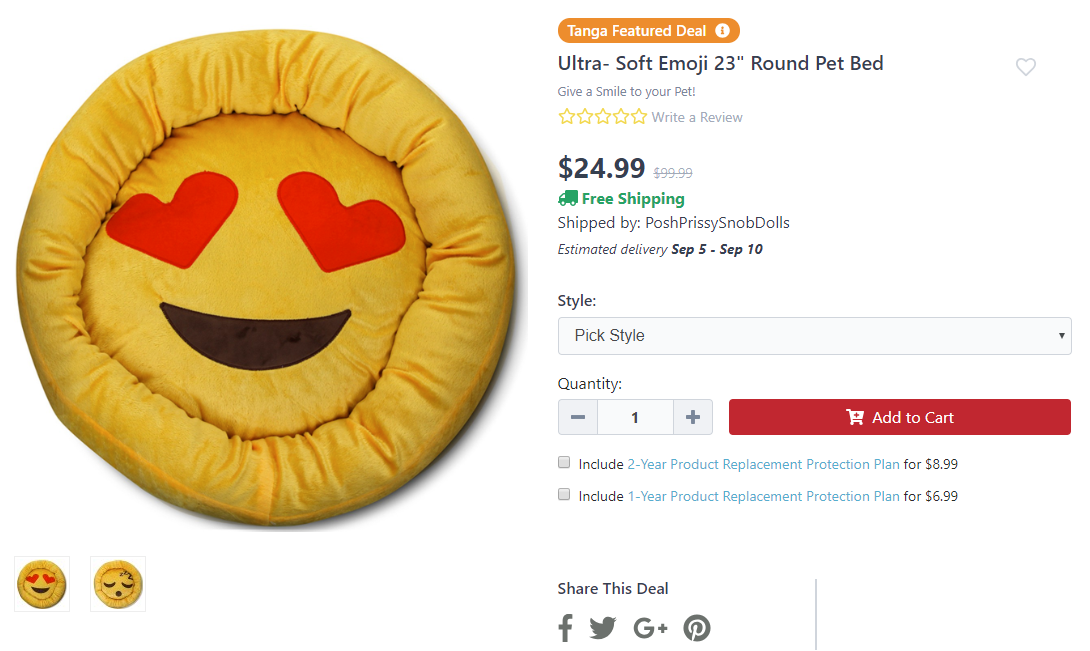 I choose my style, quantity, and optional protection plan and click "Add to Cart"!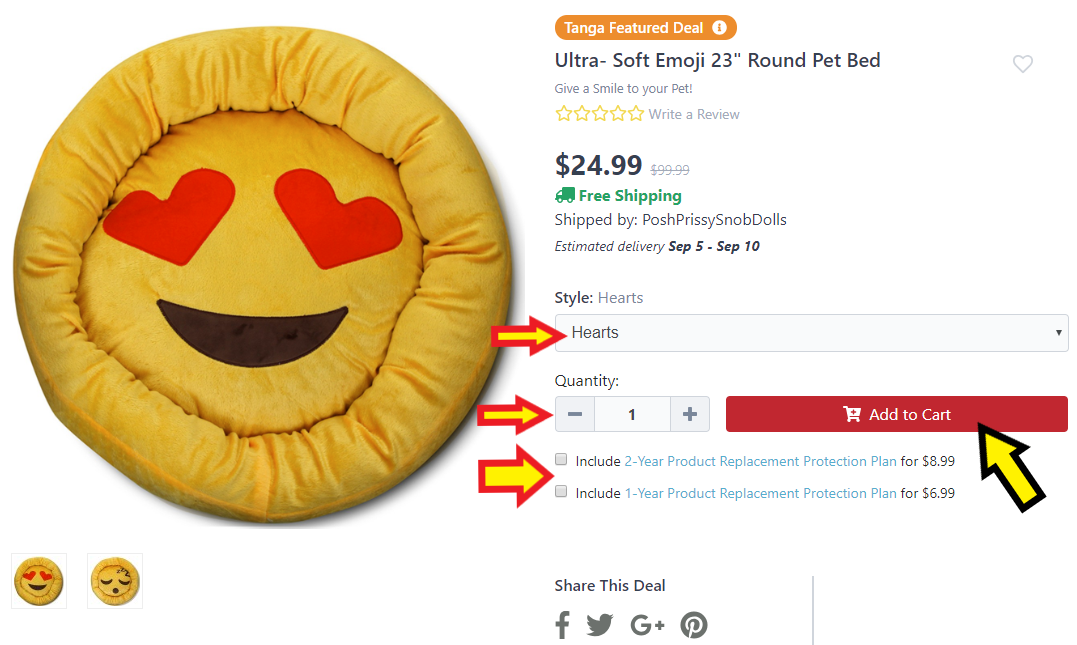 If you did not select a protection plan before adding to the cart, a pop-up will offer you the plan once again to make sure that you did not opt out in error! You can select "No Thanks" to decline or "Add Coverage" to accept the plan.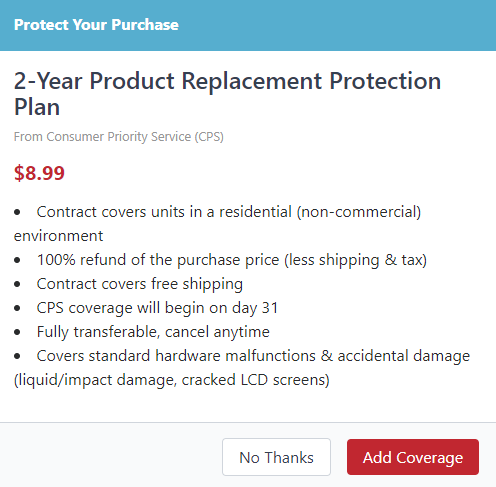 I decided to add coverage just in case I need the plan in the future since I'm sure Tabasco is going to love this bed!
After I have added these items to my cart, I have the option to Go to Cart to review my order, or to Proceed to Checkout. I would like to "Go to Cart" and review my order.

From this screen you can change the quantity of an item, remove an item, or enter a coupon code. To proceed, you have the option to "Continue to Checkout", use your "AmazonPay" account for purchase, or "Continue Shopping".
I choose to check out now since I'm sure if I continue shopping I am going to find many more great deals, and I will be unable to log off in time to get to my own dog's play date!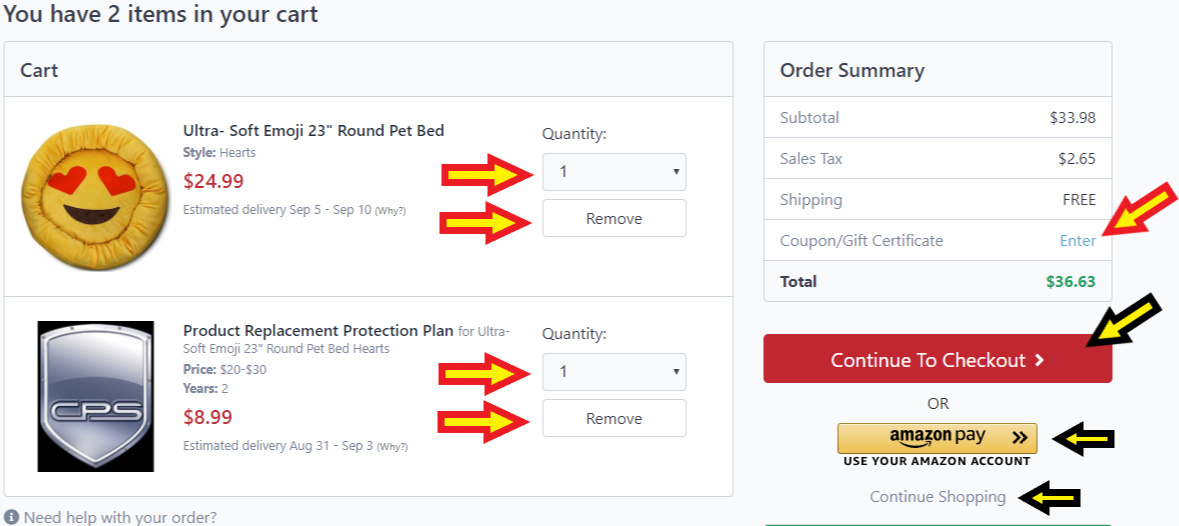 If you are already signed in, you will be taken straight to the check out page.
If you have not signed in or created an account yet, you will be able to from the next screen! The email that you use to create an account is where all order correspondences will be sent. You will be able to manage your account, view orders, and a few other fun surprises for you when you have a Tanga account!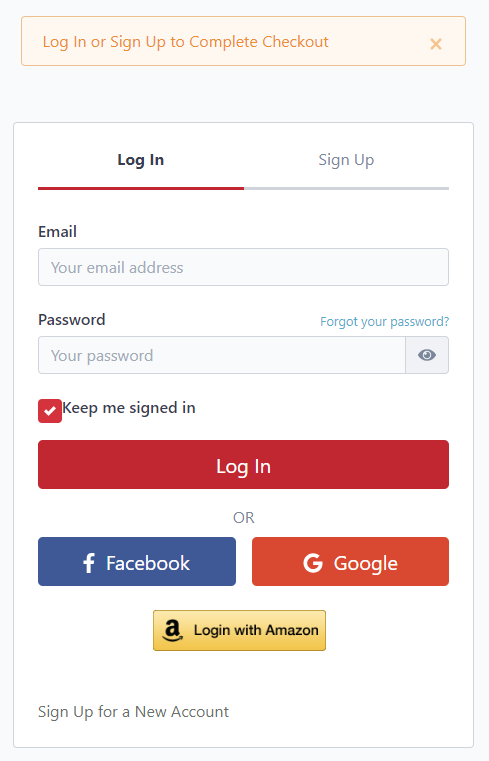 Once signed in, you will be directed to the Checkout page. First I will select my shipping address. Since I am shipping to a friend, I will add the address here: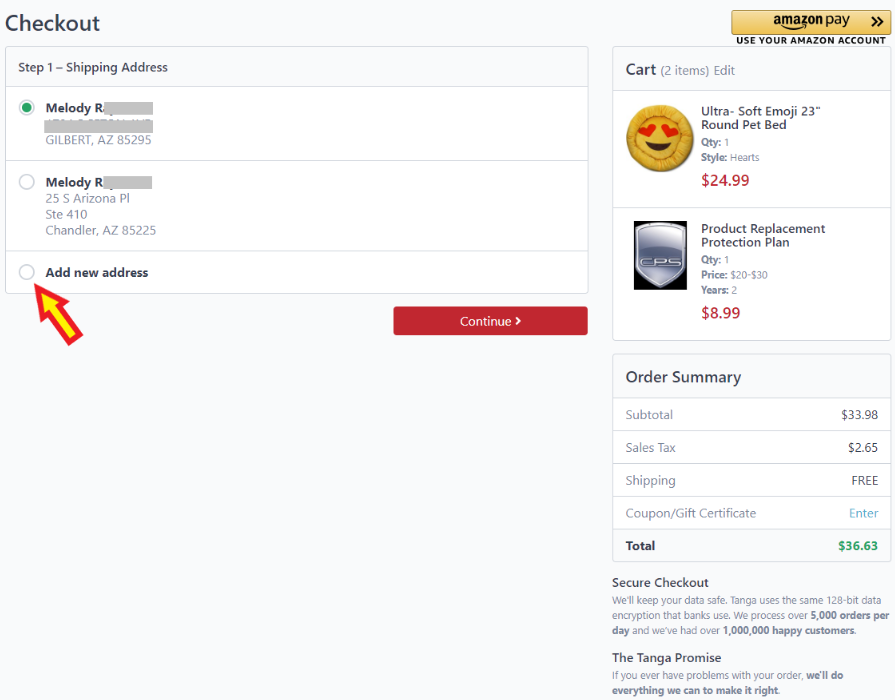 Once I have added the shipping address and clicked "Continue" I find myself on the payment page. Here I will enter payment information.
Please make sure that the "Shipping Address matches Billing" address box is checked or un-checked correctly depending on your order situation.
In this case, my Shipping does not match Billing address so I will un-check the box and enter the billing address of my card exactly as it appears on my credit card account. If the address is not matching exactly, then the order may be rejected and canceled due to our fraud protection system.
If you did not enter your coupon code earlier, you can do so now or select "Place Order"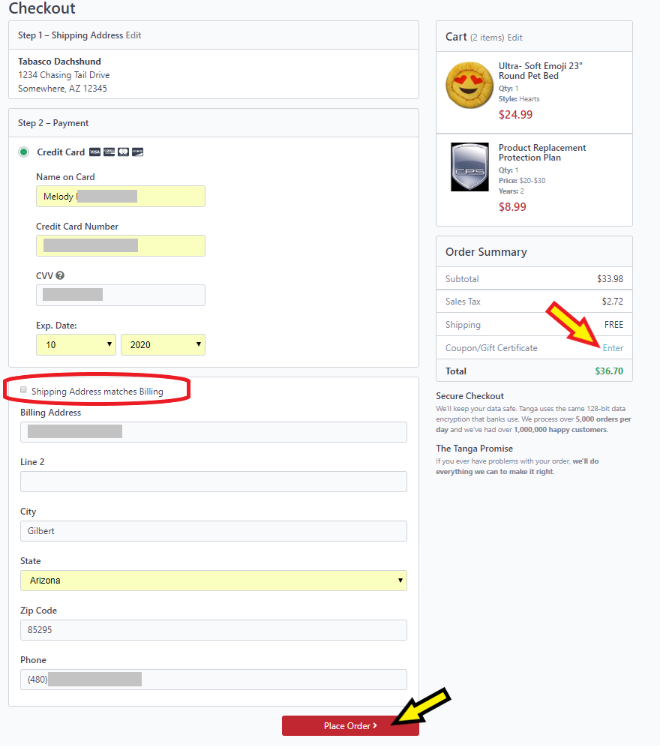 Once you have selected "Place Order" an order confirmation email will be sent to the account's email address. You will also receive a confirmation order email for your CPS Protection Plan coverage if you chose to purchase one. Please keep this email as your receipt as you will need it in the future if you need to activate your coverage.
**Please note that this is your receipt. No receipt or invoices are ever shipped out.**
Thank you for joining me, I can't wait to see Tabasco's expression when he receives his new fashion lounger!
If you have any questions or concerns while placing an order, please contact us and we are happy to assist you.