Easy Returns at Tanga
Returns on Tanga products are easy, so you can shop at ease!
RETURN REASONS
Changed your mind?
Simply return the item back to us within 15 days of receipt of the product, and we will issue a refund minus the cost of the return. Click here and follow the instructions for sending us your returned item.
Defective or damaged merchandise
Please accept our apologies & click here for return instructions. We must receive these items back within 30 days of receipt* to issue a refund.
NOTE: We may ask for photos on occasion. This helps us correct issues faster and helps us create better future experiences!
FINAL SALE ITEMS
Some of our items are marked as final sale. We cannot accept returns or issue refunds on these items, unless they are defective, broken, or you received the wrong item. You can see if an item is final sale by the box that is located below the price of the item on the product page (see below).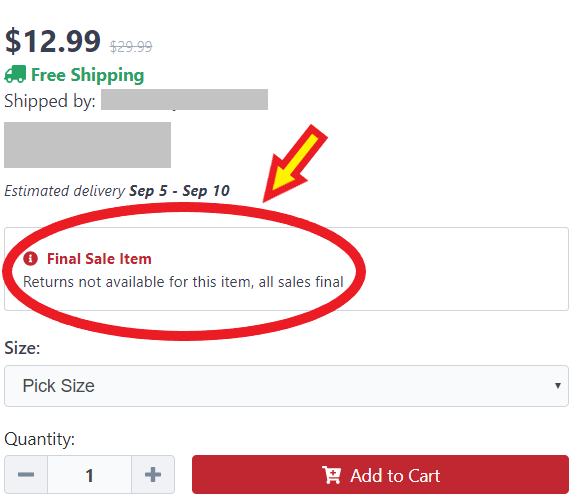 Update to the Tanga Return Policy
HOW TO RETURN YOUR ITEM
1) GET A RETURN SHIPPING LABEL
We will issue a return shipping label for an easy returns.
Click here and follow the simple instructions to get a return shipping label for your package.
Be sure to include the following with your message to speed up this process:
Order Number

Item/Quantity you wish to return

Reason for return
2) PACKAGE YOUR ITEM
Carefully package the item to be returned along with ALL original packing materials and accessories.
3) SHIP YOUR ITEM
Please ship within 5 days of the date the return label was sent to you, as our warehouse must receive it within 10 days of the label date to issue a refund.
If you do not use our shipping label, you MUST send customer service the tracking number on the return package so that we can verify proof of delivery. We can not refund a return that has not been returned. We do not reimburse shipping cost so please use our label!
4) GET YOUR MONEY BACK
Once we receive your return, we will verify that the item is identical to the brand, specifications, item description & condition* of your original purchase.
Example: If your item was sold to you in "New" condition, we expect that the item has not been worn, used or washed. If item has been washed or used, the vendor may not approve a refund.
Once verified, we will issue a refund after 5-7 business days from the date of receipt of your item to allow for processing.